Washing machines are definitely a household essential and that is why it is important to know what capacity of washing machines you are looking to invest in. If you have a large family then you should probably consider buying those washing machines that have a heavy load capacity. And not just any washing machine that supports heavy load but a good one at that, which will also last longer. Here is a list of some of the best washing machines with a capacity of 10kgs or more.
Whirlpool Ace XL 10.5 Kg Semi Automatic Washing machine
Image source: Whirlpool
With a 10 year warranty, the WhirlPool Ace XL 10.5 Kg washing machine is a good option for those who have to do heavy laundry daily. This washing machine comes with many features which include 3D Scrub Technology, 3D Lint Filter, 3D Turbo Impeller, 1400 RPM Spin Motor, Waterproof, and Shockproof Control Panel. 
The 3D scrub pads ensure that the clothes are washed thoroughly. The 3D scrub technology makes the wash efficient by rotating the clothes in an Up and down motion. The 3D lint filter has a triple layer filtration process allowing effective collection of lint giving clean clothes after every wash. The turbo impeller has a rotary stem which along with the 3D scrub pads gives the cleanest of clothes after each wash. The high RPM speed spin motor gives fast and effective drying of all the clothes in the laundry and the control panel is waterproof which means that even if water is spilled there will be no damage caused to this washing machine or any kind of shock.
The price of Whirlpool Ace XL 10.5 Kg semi-automatic washing machine is INR 22,350, however, there might be discounts in various online and offline store which can sell this washing machine much less than its initial price. 
LG FHD1057SWS 10.5 Kg washing machine
Image source: LG
The LG FHD1057SWS is another good washing machine with a capacity of 10.5 Kg along with a 7 Kg variant. This washing machine is expensive, however, the price is totally worth it. This washing machine comes with many features including smart features. The features include AI DD Motor Washing Motion Optimization, 6 Motion Direct Drive, Steam, Allergy care, ThinQ with Wi-Fi Control, Smart Diagnosis, Bigger Drum Capacity in the same Space.
The AI DD is available for three types of fabric, cotton, mixed fabric, and easy care and this feature detects the weight, the softness of the fabric and then chooses the most efficient motion for the fabric by itself. The 6 Motion Direct Drive technology ensures proper care of the laundry by moving the wash drum into multiple directions. Steam and allergy care reduces 99.9 percent of dust from clothes giving totally safe and hygienic clothes after each wash which in the current times is definitely a good feature to have. Users will also be able to control it with an app on their mobile from any place.
The price of the LG FHD1057SWS 10.5 Kg washing machine is INR 79,999 although there might be discounts that sell this product at a lesser price.
Samsung WA11J5751SP Top Loading with Active Wash+ 11Kg washing machine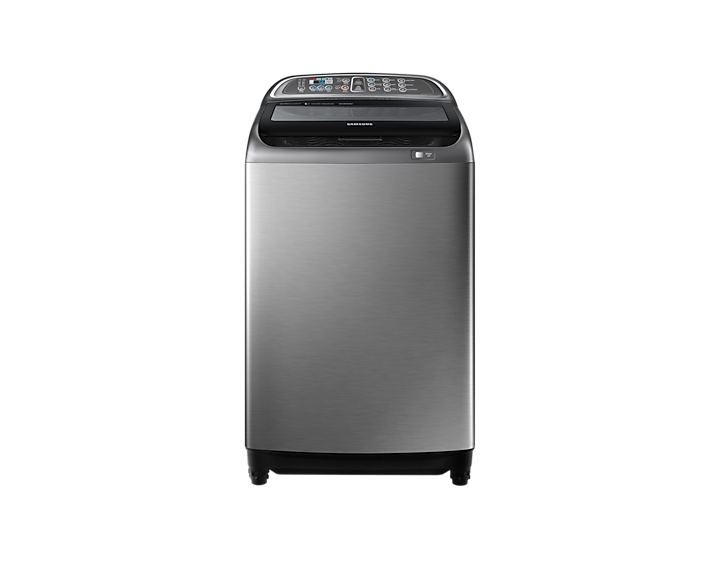 Image source: Samsung
The Samsung WA11J5751SP washing machine comes with a capacity of 11Kgs and is ideal for any large family. The features of this washing machine include waterfall technology, eco tub clean, digital inverter technology, wobble technology among others. 
The wobble technology ensures that the fabric is secure along with preventing the clothes from getting twisted, tangled, or even having knots, handling the laundry very gently. The magic filter gathers all the unwanted particles such as dust, lint, and other dirt particles giving the cleanest of washes. The digital inverter washes laundry with more efficiency consuming more power and less noise. Other than that this washing machine with tempered glass door that can withstand heavy pressure lasting longer and an ice blue LED display that adds an extra layer style to its design.
This washing machine's initial price is INR 41,900 but along with discounts, the buying price can be lesser.
LG THD12STB Top loading washing machine 12 Kg
Image Source: LG
The LG THD12STB is also a good washing machine that comes with a 12 Kg capacity that has all the necessary features of a modern washing machine. The features of this washing machine include waterfall technology, Jet spray, turbo drum, turbo wash 3D, Stainless steel tub, auto pre-wash, LG ThinQ, and others. 
This washing machine cleans clothes effectively as it has steam and a heater feature washing clothes in hot water that helps in removing the stains much efficiently while maintaining the temperature inside the tub. The LG allergy care exposes the laundry at 60 degrees celsius to kill germs and allergens effectively. Along with those the features mentioned above ensure that all the clothes are washed properly, gently, and with care to provide the cleanest, most hygienic results.
The price of LG THD12STB is INR 51,490 but since there is a discount in most stores online and offline the buying price will be much lesser depending on the discount.
Read More: Windows 11-System Requirements
Also watch: What is the right size TV screen you need for your home