In an effort to counter the misinformation on the internet regarding all the hoaxes and false information about the Covid 19 Vaccine, Google launched a new feature in the UK on December 10, 2020. The feature will pop up in the user's search whenever they look for Covid 19 information in Google. 
The feature will list several locations where the user can go and receive the authorized vaccines near them. It will also provide sufficient information panels about each of these vaccines. As more health authorities have started to authorize vaccines or are on the verge of doing so, Google intends to launch this feature in other countries as well.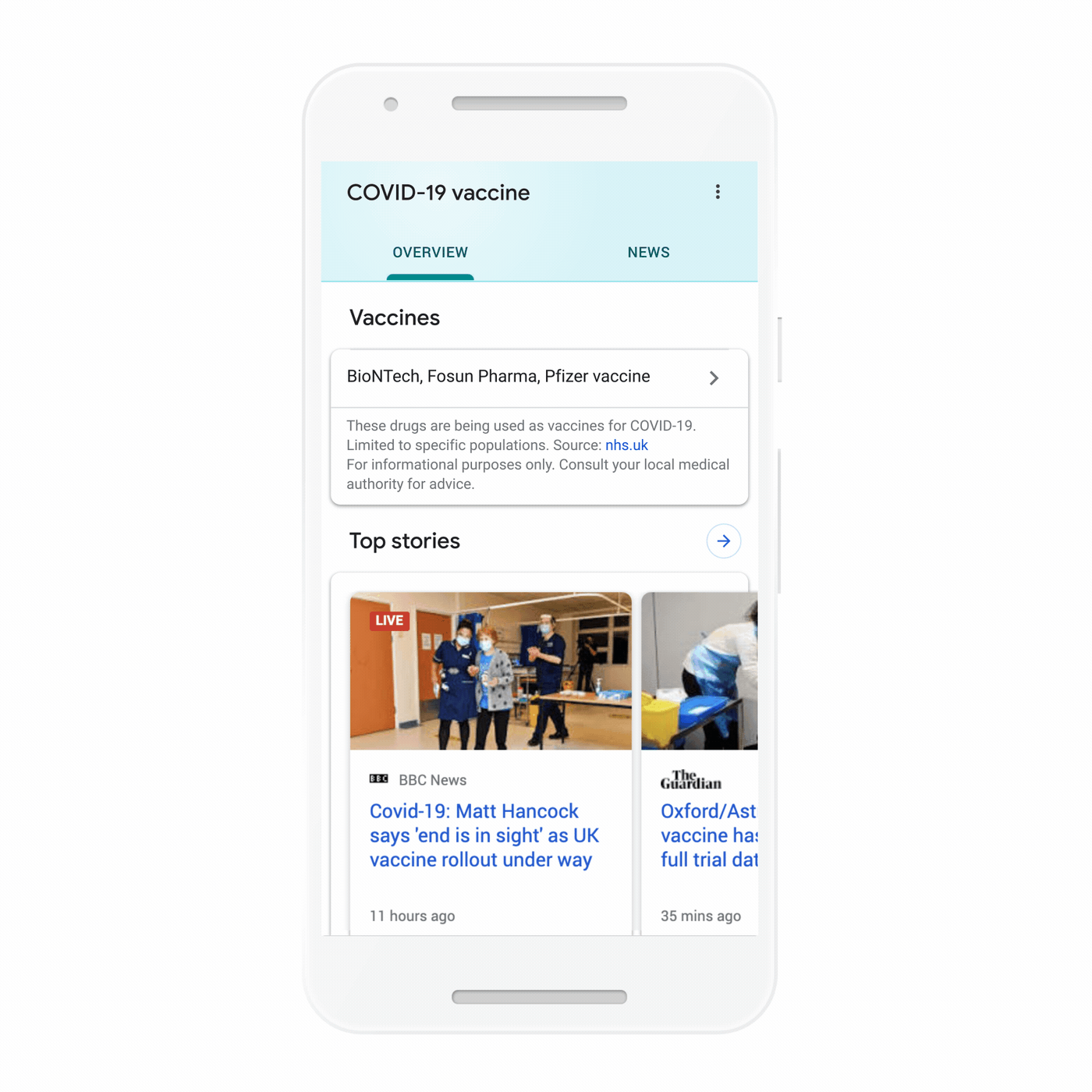 Apart from that, there is information about the Covid 19 vaccines that are widely being shared on YouTube Panels which were first launched earlier this year, in March. Claiming to have received 400 billion views, they intended to remove all videos that gave misinformative and misleading facts and statements about the Covid 19 pandemic and its vaccination. 
The new feature which is the Google panel giving out information has started rolling out in the United Kingdom as the Pfizer vaccine has started to be distributed to the people. With an effort to make more informative content regarding the Covid 19 and its vaccine, to help the viewer gain more awareness about the same Google stated, "Because YouTube creators are a trusted voice within their communities, we're also supporting creators by connecting them with leading health experts to make helpful and engaging content for their audiences about COVID-19 and vaccines."  
Google has claimed on removing more than 700,000 videos since October when it first started to crack down any videos that contained any kind of misleading information about the Covid19 vaccine. It intends to also remove misleading information across other Google platforms such as Ads, Google Maps, and the Play Store.
Quality comes with a Price – Google's Expenses
Google spent $6.5 million for Covid 19 fact-checking initiatives that trained and provided with all necessary resources to around 10,000 reporters across the globe. An additional of $1.5 million has been funded by the Google News Initiative to create COVID-19 Vaccine Media Hub led by the Australian Science Media Centre, and with support from technology non-profit Meedan, which will help journalists and reporters with fact-checking the information about Covid 19 and its vaccine. "the hub will be a resource for journalists, providing around-the-clock access to scientific expertise and research updates. The initiative includes science media centres and public health experts from Latin America, Africa, Europe, North America, and the Asia-Pacific region, with the content being made available in seven languages."  
Apart from these Google is also funding research by academics at Columbia, George Washington, and Ohio State universities who will carry out surveys of citizens in ten countries to find more effective ways to counter the misinformation about the Covid 19 and its vaccine.  
The Covid 19 pandemic has not been easy on anyone. The pandemic also marked a variety of conspiracy theories, abuses, phishing attempts, fraud schemes, etc that went around the internet. The global Trust and Safety Team of Google has worked relentlessly to crack down such content and further intends to so as they have already started planning for 'new threats and abuse patterns'.
The Covid 19 vaccination has started to be administered in many different countries and will only increase in the coming months across all the countries across the globe. In such times Google ensures their support towards the effort of vaccinating the masses and intends to introduce more features and products to impart correct information to the masses at the right time.